INTERNATIONAL JOURNAL OF
MULTIDISCIPLINARY EDUCATIONAL RESEARCH
(Social Sciences, Humanities, Commerce & Management, Engineering & Technology, Medicine, Sciences, Art & Development Studies, Law)
Peer Reviewed and Refereed International Journal
Greetings from Prof.K.Ramakrishna Rao...........

INDIAN COUNCIL OF PHILOSOPHICAL RESEARCH
(Government of India, Ministry of Human Resource Development)
Camp Office: 35 Daspalla Hills, Visakhapatnam 530 003
Tel.: 0891-2567421, E-mail: krrao007©gmail.com
K.Ramakrishna Rao, ph.D., D.Lit.
Chairman
Thank you for giving me a copy of the first issue of the International Journal of Multidisciplinary Educational Research. I just browsed through the 300 pages of the journal. I am impressed by the extensive contents and interesting mix of topics and contributors. The future progress in humanities and social sciences is expected to have an interdisciplinary thrust. In that context, journals like this have a special role. I wish you all success in this important and difficult undertaking.
Let me say again, how glad I am to have a copy of the first issue of IJMER. I send you my best wishes for its success.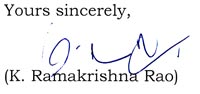 Dr. Victor Babu Koppula
Editor-in-Chief IJMER
Dept. of Philosophy
Andhra University
Visakhapatnam-530 003
Head Office: Darshan Bhawan, 36 Tughlakabad Institutional Area, M.B. Road, New Delhi-110062
Cable: ICPHILRES Tel.: 91-11-26057387 /29051762; Fax: 91-11-26057387
E-mail: icpr©de12.vsnl.net.in Website: http//www.icpr.nic.in
Portal: http//www.consciousness-ind-phil.com

2022 Issues
2021 Issues
2020 Issues
2019 Issues
2018 Issues
2017 Issues
2016 Issues
2015 Issues
2014 Issues
2013 Issues
2012 Issues